Just Jerome Haunted Tour
| | |
| --- | --- |
| Starts in Jerome – departs at dusk – please call for time | Length: 2 hours |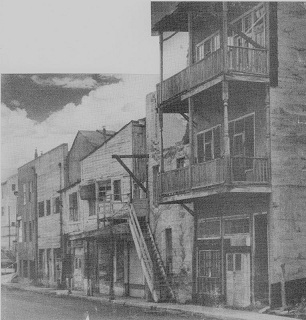 Photo courtesy of the Jerome Historical Society
While visiting Jerome, Arizona, you will definitely want to include a ghost haunting adventure in "The Wickedest Town in the West". Because it was a ghost town of 45 inhabitants for many years, those seeking "spirits from the past" come here to experience the "chill of it all".
On this 2 hour tour, your other-world experienced guide will meet you at the New State Motor Company, one of Jerome's most haunted and historic buildings. We will then equip you with EMF readers and flashlights and lead you into haunted buildings and take you to sites that were formerly the scene of several acts of murder, suicide, mining accidents and other acts of mayhem.
Be sure to bring your digital cameras as you are very apt to capture orbs, shadows, apparitions and other surprising paranormal phenomenon.
HAUNTED SITES YOU WILL VISIT OR SEE:
THE CONNOR HOTEL AND THE ANN HOPKINS TRAGEDY
HEADLESS CHARLIE AND THE TRAGIC MINING ACCIDENT
THE MILE HIGH INN AND THE MURDER OF JENNIE BAUTERS
THE NEW STATE MOTOR COMPANY AND THE CAROLINE REESE DROWNING
AND MANY MORE HAUNTING STORIES AND SITES
2 Hour Tour: $35 ($20 for children)
NOTE: This is a walking tour with steps and uneven ground. Please wear comfortable walking shoes and dress appropriate for the temperature and elevation.